THE BEST STREET FOOD IN ISTANBUL
Many visitors to this thriving city come for the scenery, architecture and the history. However one thing you cannot fail to miss is the amount of different street foods on offer.
Street food is a real tradition in Istanbul. From the portable hand carts that pitch up daily no matter what the weather selling Simit, roast chestnuts and lots of other mouth-watering snacks to the boats where you can get a fish sandwich.
Simit
Probably the most famous street food is simit. This is a sesame crusted circular bread. Usually eaten at morning or for a quick tea break its one food that is a must to try. Over the years the simit vendors have also added an assortment of fillings from cheese and  right up to date with Nutella.
Kestane ( Chestnuts )
Here in the UK and other countries roasted chestnuts are usually an autumn/winter snack. However in Turkey they are a very popular street snack. Turkey produces 64,000 tons of chestnuts yearly and is one of the top produces in the world. The vendor roasts them on a small hot plate on his cart and can be served hot or cold for only a few lira. 
Lokma
The word Lokma means ' mouthful' or 'morsel'. Similar to doughnuts they are deep-fried dough balls soaked in syrup and then sprinkled with pistachios. That is the traditional way. However these days you can get the lokma filled with chocolate or cream and they are served in a tray with melted chocolate or ice cream on top,
Balik Ekmek ( Fish in bread )
These fish sandwiches are very popular with locals and tourists alike. This must be one of the must have lunches in Istanbul. The Balik Ekmek as been made on the shore of the Bosphorus and the Golden Horn since the middle of the 19th century. Fishermen when coming home after a bountiful catch would supplement their income by making and selling fish sandwiches. 
You can still get it along the Bosphorus from vendors but also they have turned boats into little kitchens where they sell the sandwich. Fish, usually mackerel is grilled and then placed in crusty white bread along with onions and lettuce. Some vendors add their own secret blends of spices too,.
Pamuk Seker ( Cotton Candy, Candy Floss )
Candy floss is a firm favourite around the world especially with children and its no different in Istanbul. Spun sugar on a stick is sold either directly from the cart as its made or some vendors make it up and put in bags which they carry on a long stick.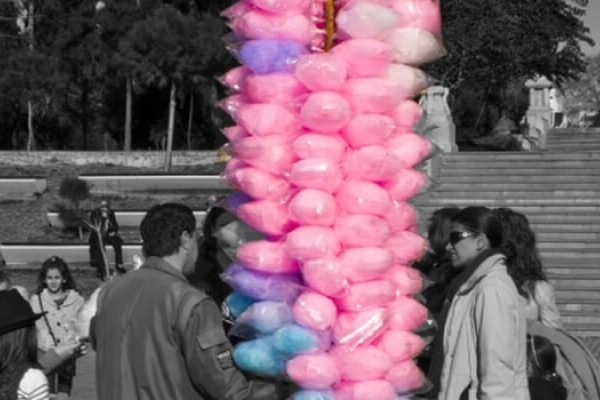 There are many other foods that are sold by the street vendors including Lahmacun which is also referred to as Turkish pizza, Midye Dolma which are mussels that are served in their shell with a squeeze of lemon juice, Tursu which are pickles and for the very brave you can also get a glass of pickle juice!
Written by: Rachel Labidi
ALL RIGHTS RESERVED