CEMAL HUNAL BIOGRAPHY
BORN: 2nd October 1976
STATUS: Married
Cemal was born in Macka Tesvikiye, Istanbul. He spent his childhood there in an apartment building. His Grandfather lived in the apartment building that had the same name, Cemal Hunal building. His Dad was an Industry worker and he also has a brother called Kerem.
He studied for two years at the Saint Benoit French High School in Istanbul, and then he was sent to the Gordonstoun International summer school in Scotland by his family. This was in 1993 and was sent apparently as he had a discipline problem. Later he studied theatre at the Guild Hall School of Music and Drama in London in 1997 and then in 1999 he went on to study at the Los Angeles UCLA extension at the Santa Monica College. While in America he married at the age of 22 in 2004 and then divorced in 2008.
Although he had a few very minor roles while acting in America his first notable roles were in Turkey. 2007 was the year that he appeared in his first movie Ulak: Cagan Irmak, and also in the same year he got the part of Kerim in the very successful series Asi ( Rebel ) acting alongside Murat Yildirim and Tuba Buyukustun. His next film appearance was in Issaz Adam, another notable performance. Through the following years, Cemal has always done an even mixture of movies and TV series.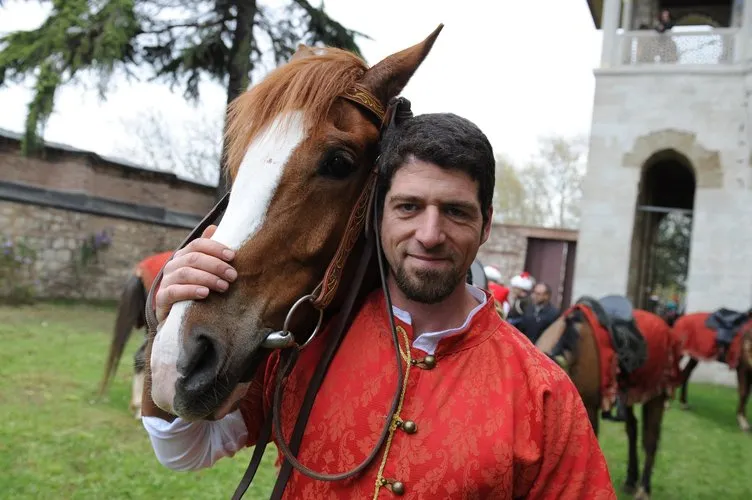 Films: Pespese ( 2010 ), Romantik Komedi ( 2009 ) Ayaz ( 2012 ) Kaos Orumcek Agi ( 2012 ) Romantik Komedi 2 ( 2013 ) Gunce ( 2013 ) Kirmizi ( 2015 ). Ile Kizim ve Ben ( 2018 )
TV series: Asi , Kis Masali, Adanali, Seni Bana Yazmislar, Bir Zamanlar Osmanli, Osmanli Tokadi, Tatar Ramazan, Paramparca, Dirilis Ertugrul.
While filming the series Asi he rented a house with Murat Yildirim and there were horses that they used to take riding up into the mountains. In 2004 he co-founded a Design and Animation Agency called Stunbull. He married his current wife, actress Lale Cangal in 2011. He is active on Instagram and has 77k followers. From his images, you can obviously see he has a passion for horses

Written by: Rachel Labidi
ALL RIGHTS RESERVED