BURCU BIRICIK BIOGRAPHY
Born: May 4th 1989
Status: Married
Burcu was born in Antakya, she has one brother, Bekir. Her Grandmother raised Burcu from childhood after her Mother and Father divorced, and her Mum had to work full time to keep the family. Burcu did her share too and even in Primary school worked at a neighbours store for pocket money. At school, she said she was always one of the boys and always wore trousers. She attended theatre festivals whilst in High school and this is where her love of acting started.
She graduated from Ege University with a degree in archaeology. Whilst at University she attended the Bornova Municipal Theatre. She appeared in a few plays and short films. In 2006 she won a beauty contest " Mediterranean Queen "She entered an acting contest and after this she got small roles in Magnificent Century, playing Hurrem's servant and Ustura Kemal. Then her career started to blossom.   She had further roles in Dusman Kardesler, Beni Boyle Sev, Seref Meselesi and 8 Gun.
My favourite ever series is Hayat Sarkisi, I loved the series and Burcu was amazing in the role of Hulya. She has also made 6 films and appeared in several TV commercials. Currently, she is in the series Kuzgun and shares the lead role alongside Baris Arduc. It has had a mixed response in Turkey, however, it's going to a second season and also is being promoted at international film festivals.
In 2015 Burcu got engaged to Advertising executive Emre Yetkin on the top of a hill in the jungle, in Sri Lanka, they married a year later, going back to Sri Lanka for the honeymoon. Emre gave up that career and now spends time doing photography.
She is active on social media and has 1.2 million Instagram followers, she has some great images of friends but also with other actors she has worked with. Her time off she spends with friends, loves good food, museums and the cinema. She loves Yoga, Motorbikes and camping.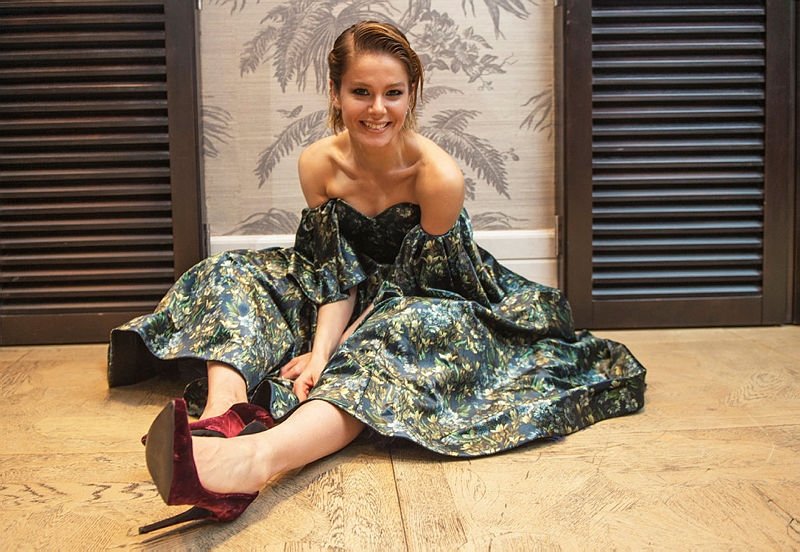 One of her dreams is to live abroad for a while and learn different languages. She wants to wait a while before starting a family but Emre is ready now.
I love Burcu, she is very natural, down to earth and enjoys life to the max… that's the best way to be.
Written By: Rachel Labidi
All Rights Reserved